---
Manufacturer's Limited Warranty
IMPORTANT: You have 30 days to report missing or damaged parts.
Gorilla Playsets® ("Gorilla") warrants its play sets to be free from defects in workmanship and materials, under normal use and conditions, for 10 years for structural wood components and for one year for all other components (e.g., swings, hardware, plastics, tarps, rope ladder, etc.).p>
Gorilla warrants all remaining products, including but not limited to its Free Standing Swing Set, Free Standing Tire Swing, See-Saw, Children's Picnic Table with Umbrella, Play-Zee-Bo™, Malibu Playhouse, and spring riders to be free from defects in workmanship and materials, under normal use and conditions, for a period of 1 year. All accessories purchased separate from those included with one of our swing set packages have a one year limited warranty.
Cosmetic imperfections and natural tendencies of wood such as peeling, splintering, warping, seasonal checking or cracking, knots or knot holes, etc. are normal characteristics of all outdoor wooden play equipment and are not covered by this warranty. Checks or cracks in wood components that do not affect the intended function of the part, piece or overall swing set functionality are not covered under this warranty.
Wood rot or decay that develops because the product was installed in an area with poor drainage is not covered under this warranty. Lumber that has been damaged by wood boring bees, or conditions that develop as a result of faulty or improper installation of the product, are not covered by this warranty. Fading of stain, discoloration or mold on any wood part or accessory is not covered by this warranty. Cracks in plastic components, surface rust on hardware and chips on powder coated materials are not considered defects in material as long as they do not affect the functionality or structural integrity of the part or component.
It is the swing set owner's responsibility to maintain the swing set. This includes but is not limited to staining and sealing the lumber as needed and regular inspection to be sure all hardware is tight. Instructions for proper maintenance can be found on Gorilla's website. Imperfections or conditions that develop because of a failure to properly maintain the swing set are not covered by this warranty.
Gorilla will, at its discretion, replace any above ground part that is defective in workmanship or materials within the stated warranty period. This decision is subject to verification of the defect, which, at Gorilla's discretion, may be accomplished by submitting photographs or by delivery of the defective part to Gorilla Playsets • 190 Etowah Industrial Ct. • Canton, GA 30114 • 1-800-882-0272 Monday to Friday 9AM-5PM EST. Any warranty claim must include proof of purchase, including the date of purchase. In addition, within the first 30 days from the date of purchase, Gorilla will replace any parts discovered to be missing from or damaged in the original packaging.
This warranty is valid only if the product is used for the purpose for which it was designed and installed at a residential, single-family dwelling. This warranty is void if the product is used in a commercial, institutional or multi-family setting. This warranty does not cover normal wear and tear or (a) products that have been damaged by acts of God and/or nature, negligence, misuse or accident; (b) products that have been modified or repaired by unauthorized persons; (c) the cost of labor; or (d) the cost of shipping any replacement product or part.
GORILLA DISCLAIMS ALL OTHER REPRESENTATIONS AND WARRANTIES OF ANY KIND, EXPRESSED, IMPLIED, STATUTORY OR OTHERWISE, INCLUDING THE IMPLIED WARRANTIES OF MERCHANTABILITY AND FITNESS FOR A PARTICULAR PURPOSE. GORILLA WILL NOT BE LIABLE FOR ANY INCIDENTAL OR CONSEQUENTIAL DAMAGES. This warranty is non-transferable and does not extend to the owners of the product subsequent to the original purchaser. Some states do not allow limitations on implied warranties or exclusion of incidental or consequential damages, so these restrictions may not be applicable to you. This warranty gives you specific legal rights. You may also have other rights which vary from state to state.


Shipping/Delivery Information
Most small accessories will ship via UPS; however, many of the products available on this website are delivered via a freight carrier (swing sets, playhouses, some playset add-ons). When the shipment arrives at the freight terminal near your location, you will be contacted by the carrier to arrange a delivery appointment. While the carrier may allow some flexibility in appointment times, lengthy delays in appointments may result in storage fees. Gorilla Playsets is not responsible for such fees.
The carrier will deliver and unload as close to your property line (curbside) as is accessible by the delivery vehicle. This service does not include set up or assembly of items or removal of packaging materials. Additional shipping charges may apply for remote areas or extraordinary delivery requirements including, but not limited to, low power lines, narrow lanes, tractor trailer restrictions, etc. The customer will be responsible for the contents after the delivery. Freight services are prepaid, and no additional charges should be presented to you at the time of delivery. However, you may request additional services of the carrier (yard delivery, garage delivery, or address change) when the carrier contacts you for a delivery appointment. These services may involve additional charges, and are not the responsibility of Gorilla Playsets.
Merchandise is shipped F.O.B. shipping point. It is very important that you thoroughly inspect the merchandise for any damages that may have occurred during transport. ANY damages that are discovered must be notated on the bill of lading/delivery receipt that you sign. Have the driver initial any damage report and be sure to obtain a copy of this delivery document. Failure to document any transportation related damage may result in delays or even the inability for us to send you replacement parts.
For All Delivery Types
Gorilla Playsets is not responsible for deliveries that are misdirected due to an incorrect shipping address, including any fees incurred from misdirected deliveries. If a shipment cannot be delivered successfully as a result of invalid shipping address, or if no one is available to accept/sign for the delivery after an extended period of time, the carrier may need to return the shipment to our warehouse. If this should occur, after a reasonable attempt has been made to make these arrangements with the recipient, a refund for the purchase will be provided, minus any shipping fees incurred by Gorilla Playsets.
While Gorilla Playsets works closely with its carriers to assure timely shipment of your order, delivery times are NOT guaranteed, and various factors can impact the carrier's ability to deliver within the expected time frame. These factors include:
Your location in relation to our warehouse;
The carrier's equipment;
Holidays;
Weather;
Other unforeseen events that may delay shipping times
Gorilla Playsets' free swing set delivery offer is good for a standard delivery (no rush deliveries), and is available ONLY in the lower 48 states. Deliveries refused, including those due to late deliveries on the carrier's behalf will be refunded minus all incurred shipping costs, which may include, but is not limited to, shipping costs to and from the respective delivery address.


Returns/Cancellations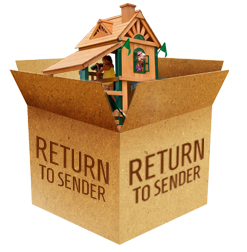 RETURN POLICY AND CREDITS
Gorilla Playsets is committed to providing fast and efficient service. If you are not happy with your order and it is in good condition, we will refund you the total product costs that you were charged, minus the shipping costs. This policy applies as long as the item(s) are returned within 30 days from shipping date and are in the original packaging (please also include the original packing slip).
REFUND INFORMATION
Orders returned do not receive shipping reimbursements and are charged the actual shipping costs, to and from our warehouse. If a returned item was a "Free Shipping" item from us, then the refund for the product will be minus the actual shipping charges. *Please save a copy of all warranty, receipts, and delivery receipts for your records.
REPLACEMENT PARTS FOR CONCEALED DAMAGE/DEFECT OF FREIGHT
As an unavoidable part of the shipping industry, sometimes packages arrive damaged or defective, or with missing parts. At GorillaPlaysets we guarantee you will receive all parts - correct and functioning properly. All replacement part orders are shipped standard ground delivery (regardless of the initial shipment type) unless the consignee chooses to pay for the difference in expedited shipping.
If your item was sent via freight truck and it was signed for and accepted, the order cannot be returned unless shipping is paid both ways by the customer and the item has not been opened or used/installed. If there is damage, part error, or loss in delivery, your replacement parts will be issued. *Please save a copy of all warranty, receipts, and delivery receipts for your records.
REPLACEMENT SHIPMENTS FOR DAMAGED ORDERS
If an order is refused at time of delivery due to damage, GorillaPlaysets will resend a new package out as soon as the damaged item is returned to our warehouse. The order must be canceled with a GorillaPlaysets customer service representative over the phone to avoid having a re-shipment. Please call our offices immediately if this situation occurs. *Please have a copy of all warranty, receipts, or delivery receipts when you call.
CANCELING A RECENTLY PLACED ORDER
As long as an order has not been processed, your order can be canceled. Orders cannot be canceled after shipment has already occured, or if the item is in mid-route.
In order to cancel your order, you must speak to a customer service representative at 1-800-882-0272. Our offices are open M-F, 8am-5pm EST.
Please be certain about the status of your order, as it is often impossible to stop a shipment that already has a tracking number placed on it. Please have a copy available of all receipts from your order, when you call so that we can locate it right away.

All other inquires reference these links:
http://support.gorillaplaysets.com/customer/portal/topics/798365-warranty-information/articles
http://support.gorillaplaysets.com/customer/portal/topics/796526-assembly-assistance/articles
http://support.gorillaplaysets.com/customer/portal/articles/1984477-suggested-maintenance